Connect your Hackey device to your My Hackey account
After completing Wi-Fi setup, continue with this step to register your Hackey device to your My Hackey account.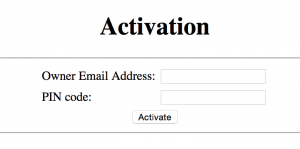 The e-mail address you registered in  1(*Create Hackey dashboard account) and PIN Code you wrote down are needed for activation. Enter the e-mail address and PIN Code and click the [Activate] button.
Once activation is successfully completed, remove the USB – Micro USB cable from Hackey and then re-insert the cable to reboot Hackey.
Your PC or Smartphone will now be able to connect to Hackey via Dashboard. If you are still directly connected to your Hackey device via Wi-Fi please disconnect. Then reload your Dashboard or log in to your Dashboard again.
Hackey will be displayed on your Dashboard if the activation process has been successfully completed.
Please continue to the next step.
Next step – 4. LED notification test